Energy management systems, visualization, sub-measurement of energy, operating statistics
Our company provides out service, delivery and installation of energy systems OPTIENER 5xx series, opti-DCPU, DXPU, DXPG. In the past, we did the same kind of work in the company Ing. František Svoboda (AD, Roudnice). There we worked for many years (from 1996 until the establishment of a new company in 2007). Our company contractually performs maintenance and assembly work for the company Ing. František Svoboda in University Hospital Motol. We provide turnkey implementation of contracts, also in cooperation according to customers´ requirements. All our equipment deliveries are quaranteed for ten years. Our supplied systems are already installed in more than 350 industrial companies, healthcare facilities, and other consumers of electricity. With our experience we actively participate in the development of software and hardware modifications. Our supplied system is a completely Czech product. We have been collaborating with our suppliers since the very beginning in 1991. If you are interested, we will be happy to come and – free of charge – work out an often for implementation in your area based on local investigation. Funding in the form of instalment without any increase is also possible. At the time when energy prices are rising, the return of the investment is approximately 24 to 48 months depending on the size of the investment. Based on accurate monitoring, specific regulatory steps in technology and technical background can be performed, to determine the cost of the manufactured product can be determined, operational statistics carried out , accurate and efficient contracting, including the determination of values ​​of energy efficiency and archiving measured values can be ensured.
Importance and use:
regulation and monitoring of reserved capacity (quarter-hour maximum)
regulation and monitoring of daily highs gas values ​​( wireless) regulation and monitoring of heat
management and visualization of boiler rooms, air conditioning, compressor stations, technology
processing of traffic statistics with the calculation of the energy cost of a product

Monitoring energy, operating statistics
Monitoring energy and technology is one of the options supplied by our flexible energy system. This monitoring, retrofitting software and hardware, can be included in the visualization software. By introducing systém you get a complete overview of the monitored "place" including histograms, trends, events, alerts and reports including the display of images. All unified analog and digital signals can be monitored .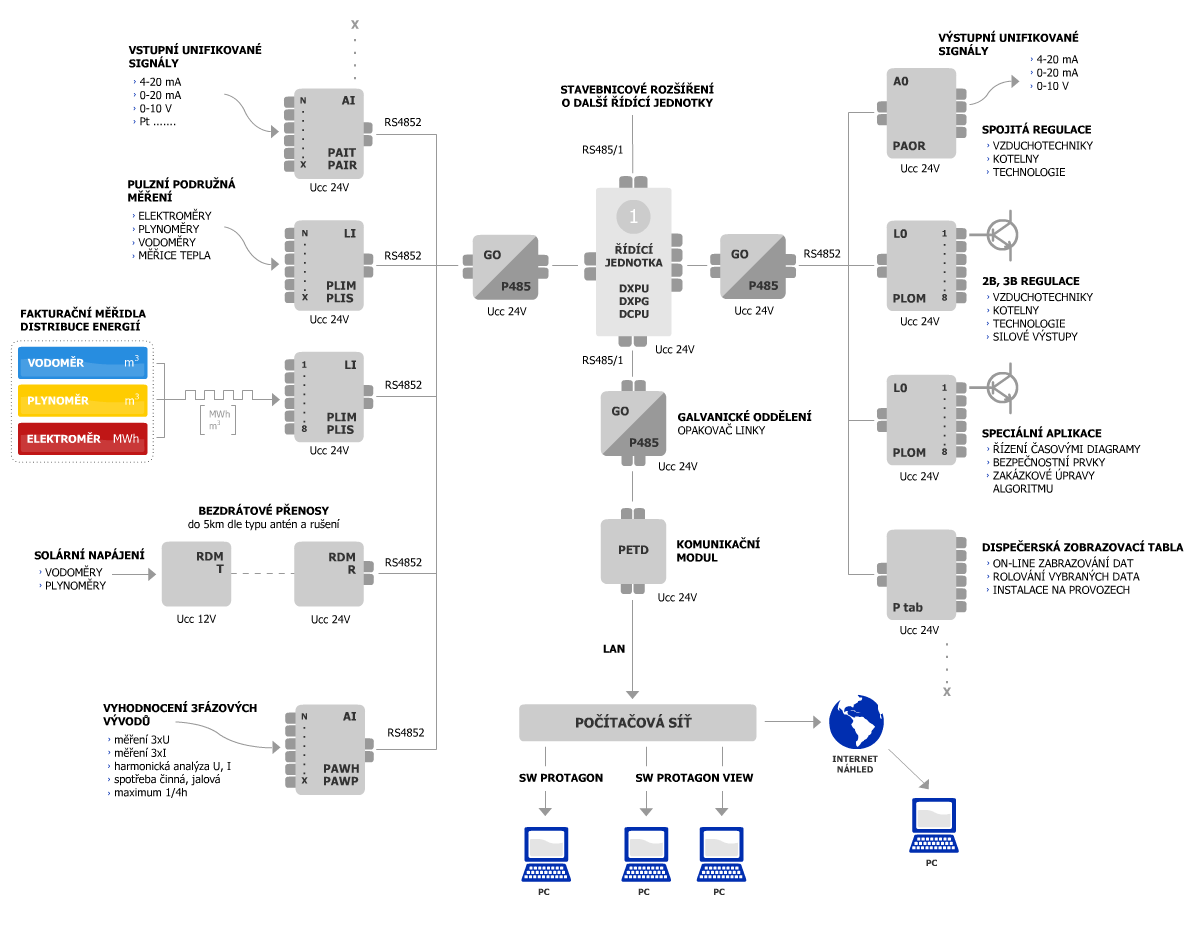 Description of system functions
Our supplied systems are designed for monitoring and regulation of all available energy, using the control units that communicate with the subordinate stations ( RS 485 - range up to 1.2 km ). These substations transmit information according to the type of unified signal by corporate current loop to control unit ( DCPU , DXPU , DXPG ), which is equipped with a communication module for communicating with the visualization software. The software is installed on the PC technology . According to the requirement of the contract it is possible to install a network of viewing or forwarding control to any PC in the ETH network.